I LOVE fall! There is SOOOO much I want to do! I thought I'd share a little bit with you on our tomato harvest and what we do with all of them. There are also some recipes and general tips below that we have discovered over the years.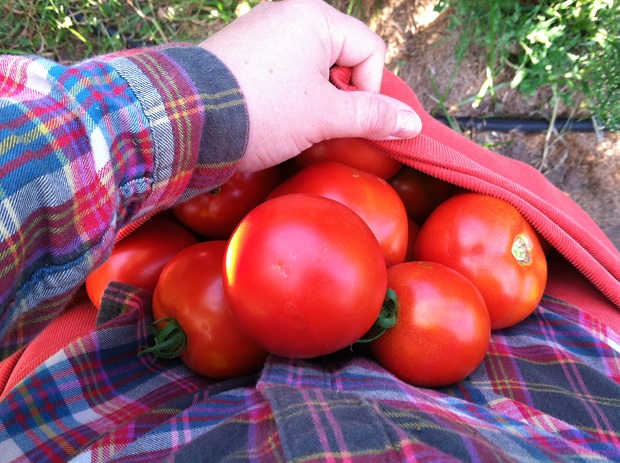 We pick, pick, and pick in the garden almost every day. I've decided that I should start wearing long skirts and aprons since I could be a lot more efficient…modern day skirts only hold so much. 🙂 We load an old sled up when we pick and then drag that to the cool barn for storage. Tony threw a fan on during some of the hotter weather and that bought us a few extra days before we HAD to get them used up.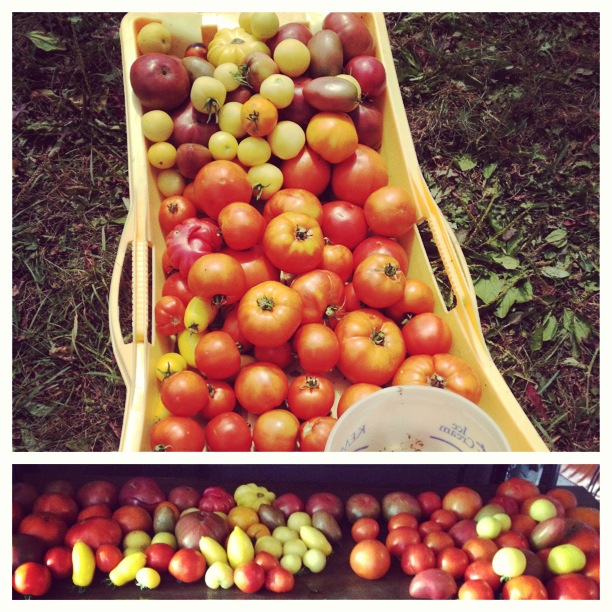 After canning and freezing a TON with the in-laws, we decided that we better put up a stand in the driveway to try and sell some. This way produce wouldn't go to waste and we'd earn our seed money for next year. It is mostly self-pay, but I do sit out there every once in a while. It's been a great way to teach Elias about responsibility and money.


We planted close to 80 plants this year; 2/3 heirloom, 1/3 standard. My best description of heirloom seeds is that they are the ones that have been around forever and not modified like (what I call) the standards. In general they have more distinct flavors and looks. The down side is they tend to be a little less hardy and susceptible to disease. We did a taste test on some of ours. Favorites for flavor were Purple Russian and Indigo Rose. Favorite for looks were Pink Accordion and Pineapple. Tony really like the Garden Peach one too…little too juicy for me. We had a few more varieties that aren't pictured her like Brandywine, Pineapple, and Banana Legs.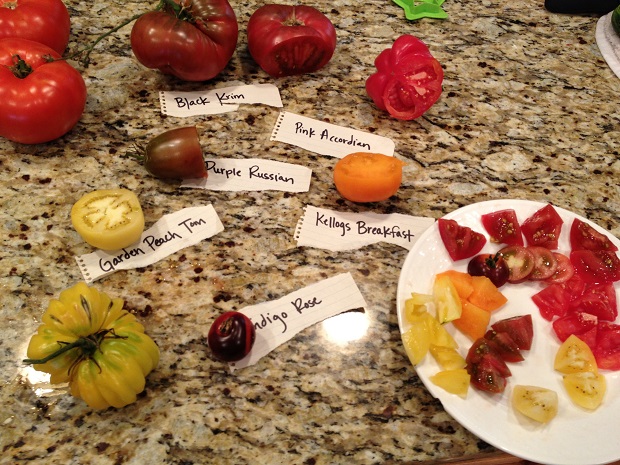 We also found that we liked the heirlooms for sauce, soup, salads, general eating, but liked the meatier standards for salsa.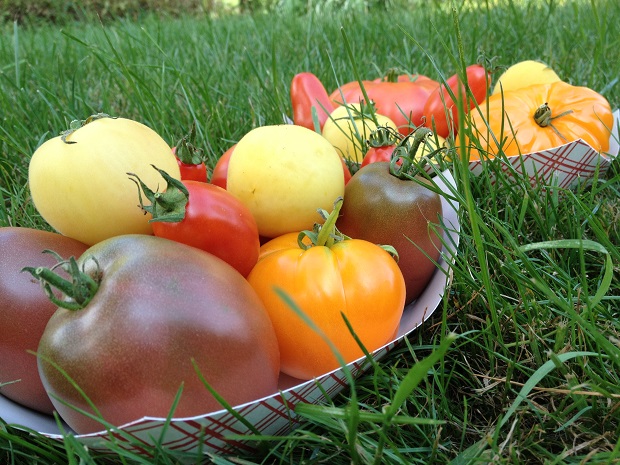 So here's some of what we made. The goal is always to make enough to last us until tomato harvest next year. Our garden supplies our family plus my in-laws so we had to make double that. My mother-in-law is a crazy lady in the kitchen–she is AWESOME! And the men-folk pitch in 100% too. It's pretty fantastic. A family affair.
General tomato tips:
–don't store tomatoes in the fridge. Takes some of the flavor away.
–Roast your tomatoes to remove skins. Adds great flavor and you don't have to boil a huge pot of water. (water bath is the other option…boil a pot of water, dunk tomatoes in for 30 seconds-1 min until you see skins split. Drop into a sink full of cold water. Remove skins.)
–You can roast under the broiler in your oven until skins blacken and crack. Helps to rotate half way through. Throw your peppers, onions, and garlic in at the same time to remove skins or just to roast.
–Roast on the grill in a pan. Doesn't blacken skins but adds great roast flavor and removes skins too. You can also put them straight on the grill if you like the roasted flavor.
–I have a stick blender this year. Love it!! I don't have to do any chopping this way. Throw skinned tomatoes right in the pot and stick blend later. Cuts down on time!
–Tomatoes don't have to be in perfect condition. Remove bruises or bad spots when washing.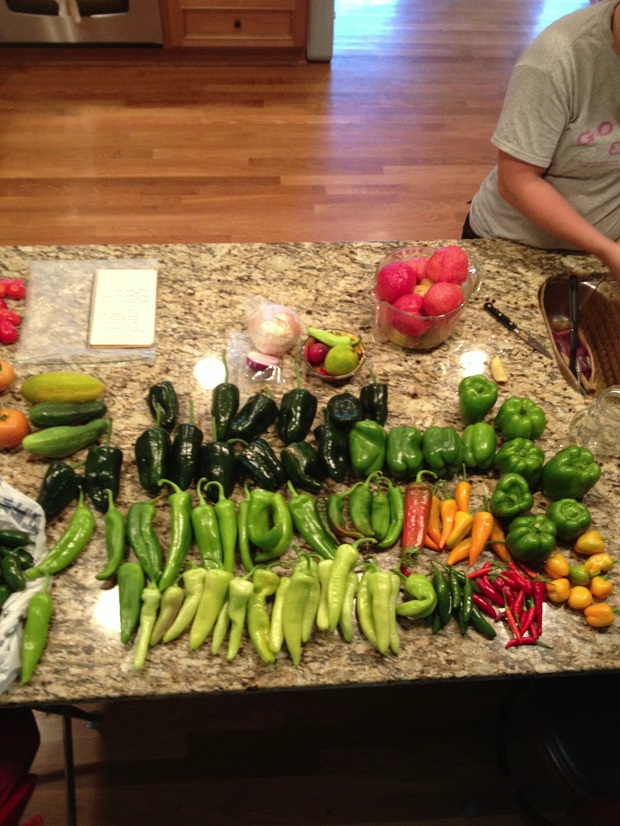 Salsa. I think the secret ingredient to good salsa is vinegar. A must have in my recipes. I also need a little sweet note with the heat. (We found a pepper this year called "Tequila Sunrise" that is our new favorite. Sweet with heat!) We change and modify our recipe every year, but here is one that I like. PLEASE use it as a base recipe and then add/tweak it to your taste! I also like carrots in my salsa. Again, a sweet note. 🙂
15 large tomatoes (skinned)
3 cloves garlic
3 onions chopped
2 green peppers chopped
Jalopeno peppers to taste (however spicy you want them)
2 (6oz) cans tomato paste
2 T sugar
1/4 c lemon juice
2 c white vinegar
2 T pickling salt
Simmer for 1-2 hours then pour into pint jars and hot water bath 20 min.
My in-laws use a recipe where you salt the chopped tomatoes, add salt, and then let them sit for some time to allow the salt to work out some of the juices. Discard drained juice or use it for soup…watch out, it is salty!
Here you can see the consistency of ours. Not so chunky.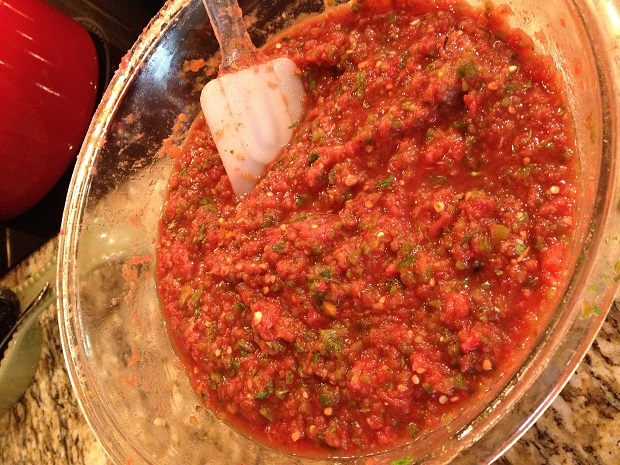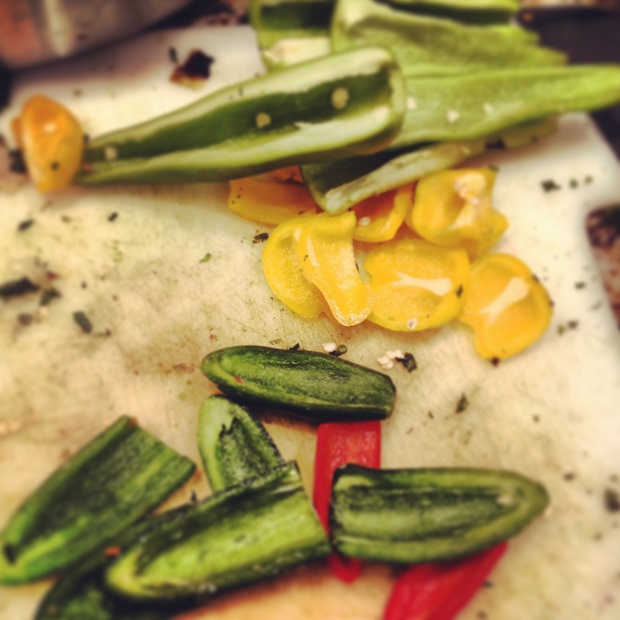 Sauce. I am a HUGE fan of sauce. I use it for pasta and pizza all year round. Again, my mother in law and I do it a little different, but I like both ways.
Roast and skin tomatoes.
In a big pot, cook chopped onion and garlic. Add tomatoes and peppers.
Add seasonings. HERBS–basil, oregano. Lots of them. Salt. Black pepper.
Stick blend and cook down til you get the thickness you like.
My mother-in-law doesn't add as many seasonings. Sometimes she doesn't add much for onion and garlic either…a true tomato sauce. She stick blends or runs the tomatoes through the food processor and then once it has cooked down a bit she runs it through her old hand crank food mill. (I have come to love that food mill this year. It's pretty awesome. It was her moms.)
Can your sauce or freeze it. I have done way more canning this year instead of freezing. It's been fun! A plus is that you don't use freezer space and you don't have to wait for things to thaw before using. (Because I am so that girl rushing around the kitchen at 4:45 trying to figure out what to put on the table…) We also bought a pressure canner this year. wowza! Those will put you back about a hundred bucks but then you can do things like green beans or non-acidic foods. Canning is pretty easy! Google it or check out a book.
Soup. Tomato Basil Soup. YUM! Here's a favorite recipe of mine from our old church in Sioux Falls. Recipe from Chris M.
Saute 1/2 onion, 2 cloves chopped garlic, 1 tsp rosemary in about 2 Tbsp butter until soft. Add 2 tsp basil, 1/4 tsp pepper, 2 cans tomato sauce, 2 chopped tomatoes, 2 cups water. Simmer until heated. Add 1/3 cup honey, 1/4 cup cream cheese, 1 cup sour cream. Simmer until cheeses blend. Adjust seasonings to taste.
Of course we use our homemade tomato sauce to make this and fresh basil. It's soooo good. In fact we had it today for lunch with gouda grill cheese sandwiches.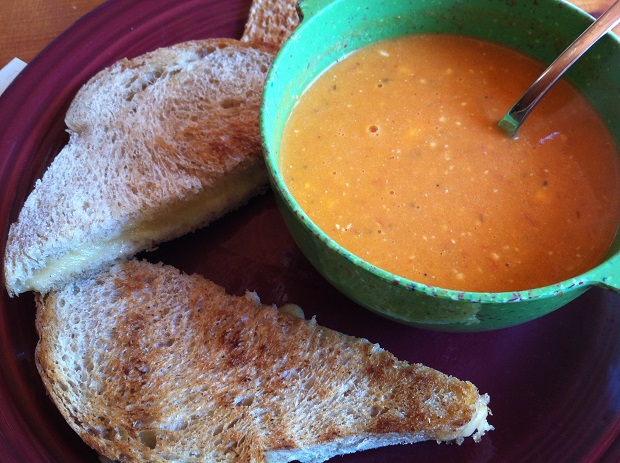 You may need to pressure can this recipe because of the cheese…or maybe just add the cheese when you go to use it. I think that's what we did this year! Kept the cream cheese and sour cream out until using. Homemade soup all year sounds fantastic! I'm not even a tomato soup girl, but this is amazing! 🙂
KETCHUP! You gotta try this! So fun.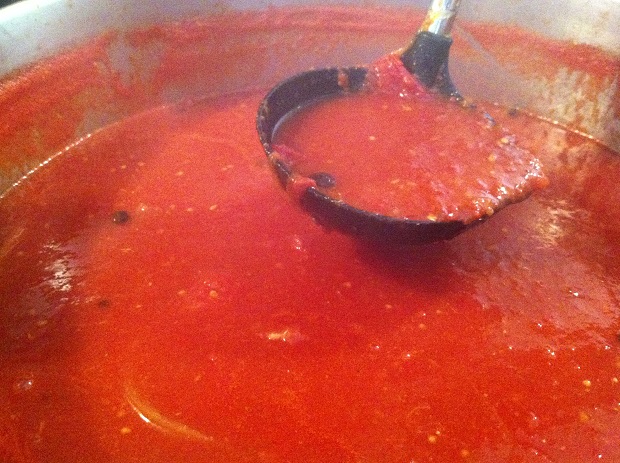 This was a new one for us this year, and I'm soooo glad we tried it. Here's the recipe we used. I think we cut back on the cayenne pepper just a little. I have to be honest…I told my mother-in-law we should make ketchup…she researched…she picked the recipe…she made…I taste tested. I told you she is great. 🙂 The food mill was perfect for this recipe to get out seeds and break down some of the spices. My husband described this recipe as "complex." He means that totally complimentary. There are soooo many spices that throw in different layers to the flavor. Can't wait to crack open jars of ketchup this year instead of throwing it on a grocery list.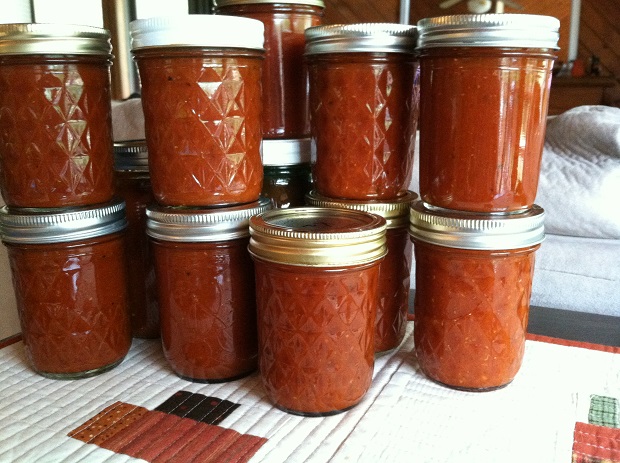 Cooking/canning/preserving can be as complex or as simple as you want it. That is sooo true with so many things in life!! Bottom line…DO IT. Try it! You will be impressed with yourself. Worst thing that can happen…you fail and have to laugh at yourself. I have been there, done that too.
I think that's it! Share recipes via the comments below if you have other MUST TRYS! And if you need tomatoes…I know where you can find some in the Hudson area!! Come see me!!