My dear hubby spilled it on Facebook, so I thought I better update you all on the BIG project that I have been working on…which is also the reason for my lack of blogging.  The news is that our hoped for baby #2 is set to arrive this summer!!  (Not really a "project" but I haven't shared any other projects with you so…)  I just finished my 1st trimester, and as with Elias, the living room chair is my favorite spot.  My energy level has just been in the tank.  I basically save everything I have to put meals on the table and moo, cheep, or baa with Elias.  Sadly, I was not able to muster enough spunk to make anything for Christmas.  Oh, boo hoo!  I am so disappointed.  My poor mom didn't even get a gift because I didn't want to give her anything that wasn't handmade.  So let's all hope that in a couple weeks I will be feeling back to normal.  Even though I have not been feeling the best, we are soooooo excited, nervous, and full of anticipation for this summer when our family will expand once again.  As we jump into this new year, I am so thankful to our God of hope and new life.
I will leave you with a food picture…no baby pics.  I can't think enough to figure out how to get them on to the computer and I already have a picture of these puffs on my camera.  Yes, I know I am lazy.  These are French Breakfast Puffs from my new cookbook–The Pioneer Woman Cooks: Recipes from an Accidental Country Girl
.  I was overjoyed that for the second Christmas in a row I was able to eat for 2!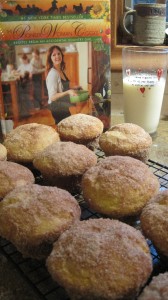 –I did pick up knitting needles last night, which is a very good sign in the crafty department.