Here's my little buddy hanging out with me in the kitchen.  Maybe he will be a foodie someday…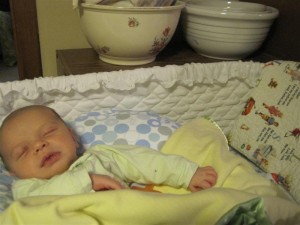 Tony has been craving popovers for the last few days, so tonight I gave it a whirl.  Wow!  Maybe it is beginners luck, but they turned out fabulous!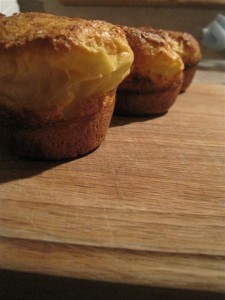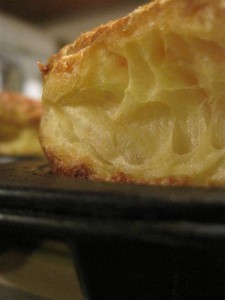 Here's the recipe thanks to Ms. Betty Crocker.
-heat oven to 450 degrees.  throw your pan in the oven to get it nice and hot.  (I used a dark muffin pan since I don't have a popover pan.)
-mix 2 eggs, 1 cup milk, 1 cup flour, and 1/2 tsp salt.  just mix until smooth…don't overdo it.
-take your pan out of the hot oven and grease well.  (an extra tip if using  a muffin pan–try to use every other cup to allow for lots of air flow.)
-fill the cups half full and bake for 20 minutes.
-reduce heat to 325 degrees and bake for 20 more minutes.  Popovers will be dark golden.
-Remove from pan right away and serve hot.  yum!
You can make these ahead and then just warm them up before serving as well!
A friend brought over a pork loin and a jar of homegrown green beans yesterday, so we dined well tonight.  This jar just makes me crave summer and the gardening season!  It will come…