Last week I was in a crafty mood and my hands were busy doing something many hours of the day.  I had 2 hand projects on the living room couch and any spare moment I had I picked up a needle of some sort.
I finished the top to "Bloom." I still have to do all the machine blanket stitching around the appliques.  I'll need to mentally pump up for that before I tackle it.  Not the greatest picture of it…should have turned the lamp off on the right side…oops.  I think if we have a little girl this would be darling on one wall of her bedroom.  We shall see in a couple weeks…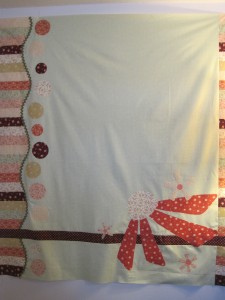 I also knitted up another "Bunny Tail" hat for a new baby.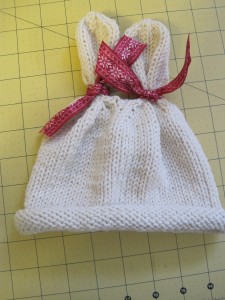 Next item in my brain–starting to think about Valentine's Day.  Let's just say homemade love notes + sweet cookies + forcing bulbs!