It's summer barbeque time and the mission for good sides is on. Tony loves homemade potato salad so the last few years we have perfected our own recipe.  It's good.  Really good.  I'm totally unbiased.  🙂  A friend asked for the recipe to make for a work party so I thought I would post the recipe for everyone.  Now I must warn you that this recipe is a lot about "eye-balling" and taste testing as you go, but here is the basic/ball park recipe.  Ingredients listed first with instructions following.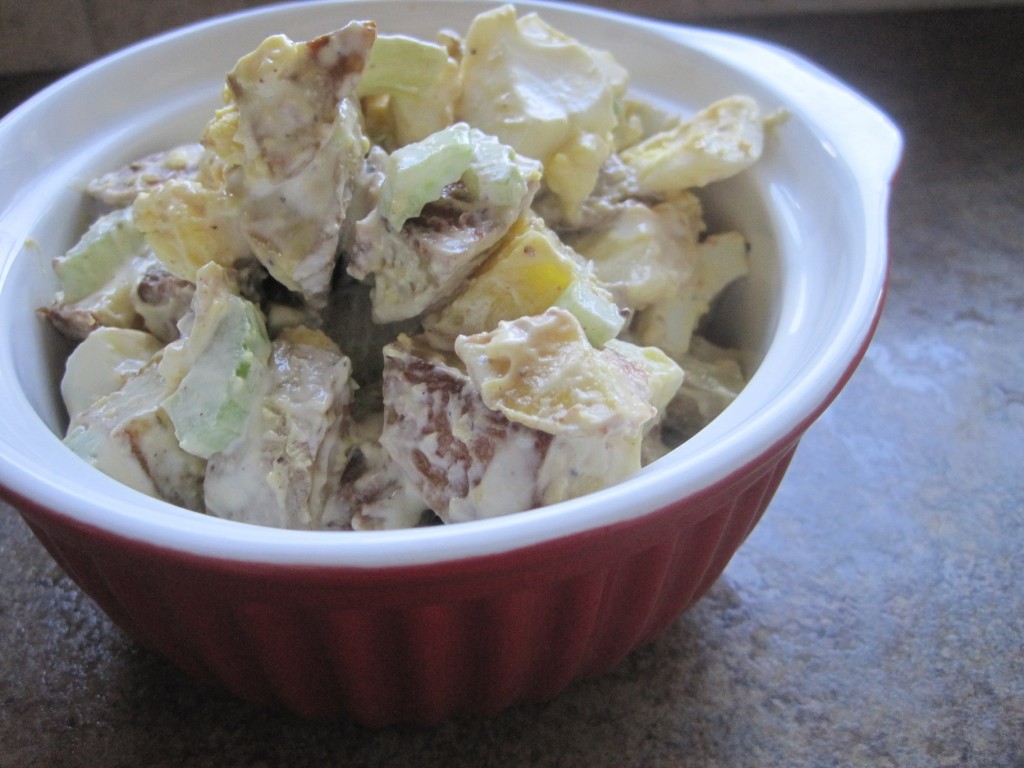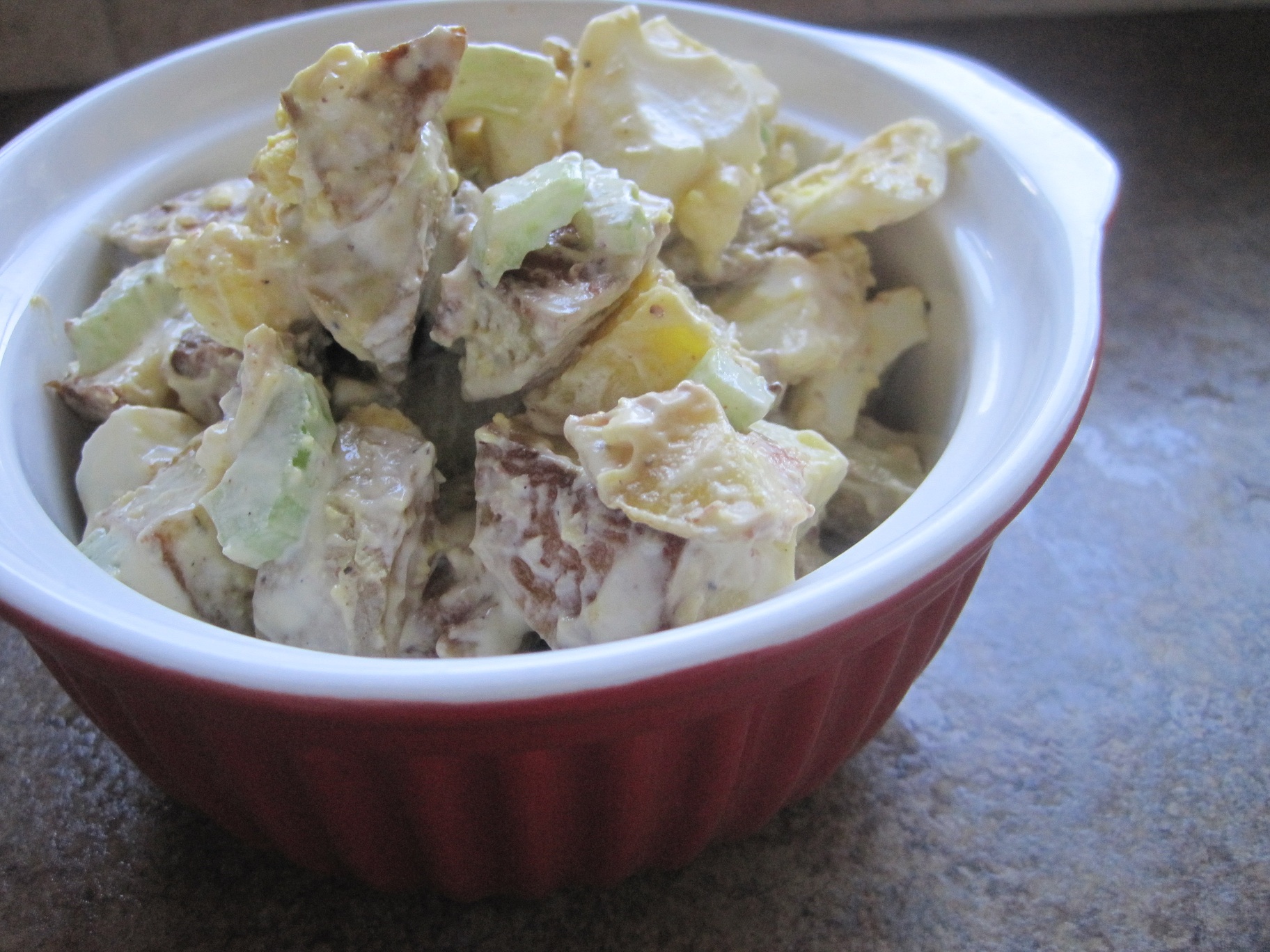 2 pounds yukon gold potatoes
6 hard boiled eggs
6 slices of bacon
2 stalks celery
3 green onions
Dressing:
3/4 cup mayo  (I'm a mayo girl.  I'm not sure what miracle whip would do but I think it would be fine???)
4 Tablespoons vinegar
1 1/2 Tablespoons mustard
2 tsp. sugar
1 tsp. salt
1/4 tsp. fresh cracked pepper
One of the biggest pros for this recipe is that the potatoes are roasted so they get a good crust.  I use yukon gold potatoes.  These potatoes have a nice buttery flesh and the skin is so thin that you can just leave them on.  Clean your potatoes leaving the skins on.  Chop them up into bite size pieces.  Place on a dark baking pan.  Drizzle with olive oil and throw in a couple tablespoons of butter.  Toss with salt and pepper…maybe even a little seasoned salt (Lawry's).  You could also add other seasonings you like at this point–a little dried thyme might be good.  Bake at 400 degrees.  You want to use a dark pan and a hot oven to help get a good crust on the potatoes.  After about 10 minutes, or until you see good browning on the bottom of the potatoes, toss.  Cook about another 10 minutes or until the potatoes are tender when stabbed with a fork.
Cook eggs.  I do cold water in a covered pot covering eggs with water by 1″.  When water boils remove covered pan from stove and let sit for 18 minutes.  Run eggs under cold water and peel.  (Totally Betty Crocker method.)
Cook bacon.
Chop your cooked eggs, bacon, celery, and green onion (don't chop too fine).  Throw in a bowl with your cooked potatoes.
Dressing:  Mix all your ingredients for dressing listed above.  I'm guessing on quantities so make sure you do a little taste testing.  I just found a new mustard I like by Grey Poupon called Mild & Creamy Dijon made with white wine.  I also have tried apple cider vinegar…I prefer just plain vinegar, but do what you want.  Vinegar is the secret ingredient in the dressing so don't skip it!
Add your dressing to your bowl of chopped stuff.  Don't add it all at once!!  You can always add more but you can't take it away if you get too much.  Toss it together and place back in the fridge to chill before serving.
mmmmmm…it's good!  Just a bit different from store bought.