We have a problem…I have discovered a new hobby.  I can now crochet!  Let me tell you how it came about.
When Elias was born, I was, or rather Elias was, gifted with a couple knitted/crocheted blankets.  I found that when I needed to tuck a blanket in tight around him in the car seat or stroller, the yarn was wonderful since it was so flexible.  I actually used these blankets more than his quilts for these kinds of outings.  With the 2nd baby coming, my mind was rolling with ideas on new items to make for the wee one.  Then I was looking at blogs one day and ran across this.  Oh my!  Beautiful!!
Meet Angela.  She does so many inspiring projects over at her blog Fussy Cut.  Check her out!  Seriously!   (picture used from Fussy Cut.)
So I emailed her to ask about the blanket and she told me it was just your average Granny Square.  So I did a little research and decided to take the dive into a new project/hobby.  I used my grandmother's old "Learn How Book"  (a steal at 29 cents), and looked for a modern tutorial on crocheting.  Here's the website I found most helpful.
Here's my first square!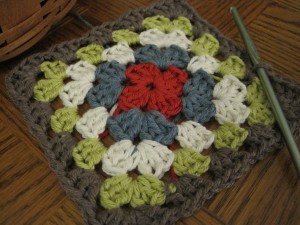 It's about 5″ square and I think I will do 7 squares by 7 squares for a 35″ square blanket.  The squares will all have the brown as the last row, but I will probably mix up the ordering of the center colors.  FYI–I am using a size 9/I hook and "jeannee" yarn.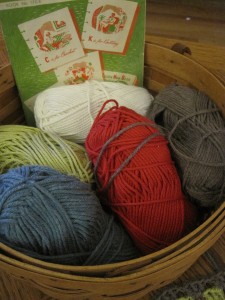 Tony is supportive of the project, although, he doesn't really understand the point of having a blanket with so many holes in it.  He also does not approve of the fact that the yarn shop owner knows me by name now.  He has no idea…