We had another blizzard here in South Dakota, so it made for a rather short work week.  I am not complaining!  Although with our winds, -40 does not feel very good.
This afternoon I made a double batch of banana bread.  I think I could eat a whole loaf of this stuff in one sitting.  Yum, yum.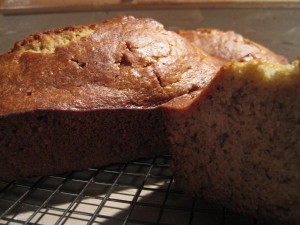 I have lots of plans for this weekend including…
-organize digital photos on the computer into digital scrapbook
-finish wool rug
-get binding on custom quilt
-towel apron for baby bath time made
-figure out the artwork for the nursery
-and maybe some filing…if there is time…  🙂
Here's a recent picture of my belly–35 weeks.  5 weeks to go!  (Do you like the Santa pants??  Whenever I am home I immediately put on the most comfy pants no matter how terrible they look!)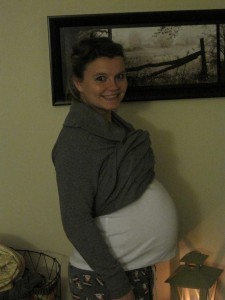 Building our love nest!