Ever since I started cloth diapering, I wanted to try out a soaker cover.  Soaker covers are knit with 100% wool and are praised for their ability to "breathe" and wick moisture into the cloth insert.  I finally got around to making one for Elias.  I figured if it worked well for him I could whip up a few smaller ones for the new baby.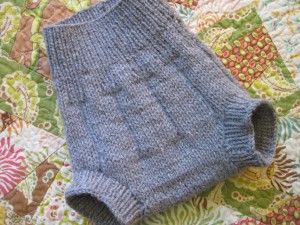 I used the pattern Curly Purly Soaker.  You can find this FREE pattern HERE. It was pretty easy to knit, although I relied heavily on other feedback from Ravelry users.  (If you are a knitter, you HAVE to be on Ravelry.  It is free and an incredible resource!!!)
As our days get hotter, I can really see how the wool is much more breathable than some of the other covers I have.   I also think Elias really enjoyed wearing it around for the first time.  Even though it is 100% wool, it seems pretty soft against his skin.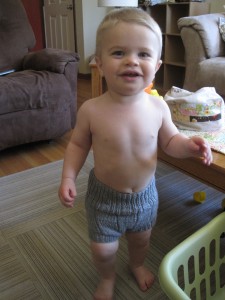 I used one of the inserts I made from Tony's old t-shirts and a couple pins…eventually I plan to purchase a different fastener instead of the pins.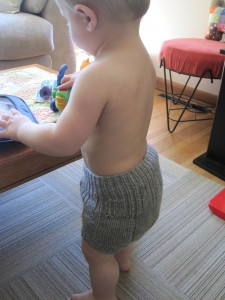 Another plus to wool soaker covers, is that you don't have to wash them as often as other covers.  I've heard you only have to wash it once every week or two!  The power of sheep!  One of the reasons you use 100% wool is that wool has a natural oil in it called lanolin which helps contain the wetness involved with diapers.  I bought a little bottle of detergent that has extra lanolin added to help the soaker retain that benefit.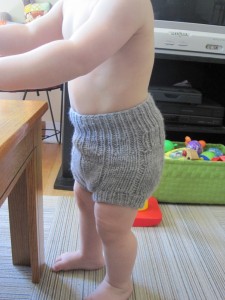 The verdict is still out on the soaker cover, but just thought I would share some of our latest adventures in babyville.