With a gorgeous day yesterday, I pulled out the clothesline to do a little diaper drying in the sun.  I soon discovered that my clothespin bag from last year was due for a date with the trash.  Last night I thought about what I wanted in a new bag…basically easy access to grab a handful of pins and big enough to hold plenty of pins.  Here's what I came up with.  An easy to construct bag with a circle big enough for my hand and lined with double fold bias tape.  Plus a waistband that I left plenty long to allow for my rather large belly at the moment.  (I can trim the straps after baby arrives if I decide they are too long.)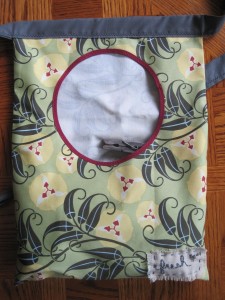 Then I added a quick little tag for an extra touch.  I hand stitched the word "fresh" and put a little bird stamp next to it.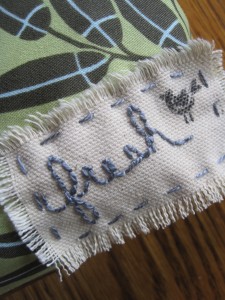 There are so many sewing projects I would like to get done before baby arrives in mid-July.  We will see how my motivation holds out.  And yes, who has time to pick up the couch when there are so many more exciting things to do.  🙂  Actually, that is a pile of my just washed Norwex cleaning supplies–love it!