I made a custom quilt for someone earlier this year, and I wanted to make a matching sham with some of the scraps but hadn't gotten around to it.  You know how that goes.  Well, I saw some pictures of Heather Mulder Peterson's new book Shams With Style
and I thought it was the perfect excuse to buy the book.  (Not that I need an excuse.)  After a couple hours yesterday, here it is.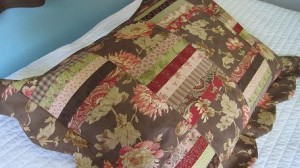 I even did scalloped edges to match the quilt.  Of course, Heather shows you exactly how to do them.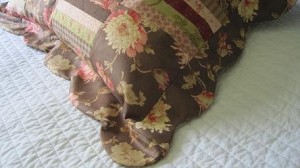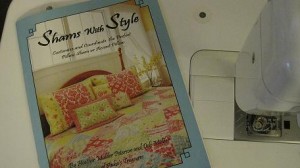 This project got me thinking about how fun it is to get surprises in the mail.  Why don't we send people surprises more often?  Even a card is exciting and it only takes a minute to write.  We could start a bit of a "pay it forward" kind of thing.  You get a surprise from me in the mail and you then have to send someone else a surprise.  It can be anything.  Postcard, card, something handmade, a bag of tea…skies the limit.  Wouldn't it be fun?  It'd be like spreading sunshine.  I think I'll do it. I'm going to send one of my readers a surprise in the mail next week!  It could be you!!  WOO-HOO!
*I will pick a surprise reader from past comments or from a comment left on this posting.  Tell me your favorite thing about this time of year.  I'll pick the winning reader on Friday the 22nd at 5pm.  However, you won't know if you've won until next week!  Surprise!