Well the weeding season is upon us.  I went out this morning and took care of a few unwanted visitors.  Plants look well.  A bit smaller garden this year, but I think we will still have quite a harvest.  I told Tony today that I think it should be one of our life goals to eventually grow most of what we eat through the year.  Last year we planted 8 potato plants and they lasted until December.  We would only need to double that to get almost a years worth.  Here are some pictures of my garden status.
This is my flower pot on the deck.  I used an old silver wash tub and the brilliant blue and orange look wonderful in it.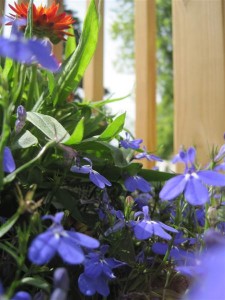 I can get another picking of rhubarb in.  I'm thinking maybe some rhubarb sauce since I don't need to make any more jam.  (I didn't have to make any jam this year–I still have a ton from last year.)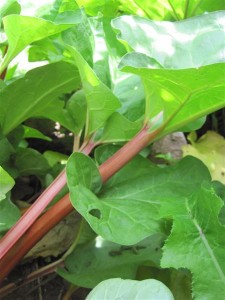 Herbs are growing very well.  This is sage and a bunch of basil and oregano.
Peas and beans are coming along nicely.  We had to do a double fence around these this year so the bunnies don't get any free meals.
And finally the lovely potato plants.  Variety=Kennebec=good for lefse=a proud Norwegian.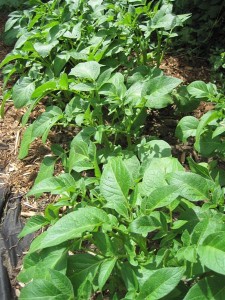 What are your garden favorites?