I know, I am supposed to be quilting now that all my old knitting projects are finished, but…  Knitting and pregnancy just go together so well!  I can sit in the lazy-boy, kick my feet up, and be brainless with a pair of needles.  This is another project that I cast on and finished in a couple days.  It is Debbie Bliss' Baby Leg Warmers from her book Design It, Knit It: Babies
.  I used Amy Butler's "belle organic aran" by Rowan.  I am really happy with the result–they are so soft and the perfect weight.  These will be for the new baby.  Leg warmers are probably more on the girl side, but I figure a baby can get by with it.  Plus, there is always the hope that someday a little girl will be wearing them as well.  But let's not get ahead of ourselves.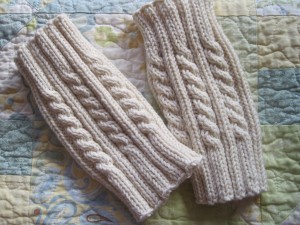 I have been doing an itty bitty amount of quilting.  Here are some new blocks I put together.  They are not finished yet, but I had to show you something to prove that I do actually sew.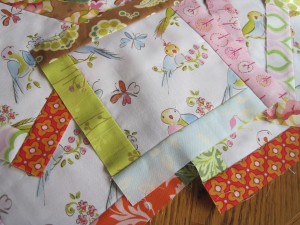 I discovered that this bird print goes perfectly with a lot of my modern prints in my stash.  Fun to mix them all up!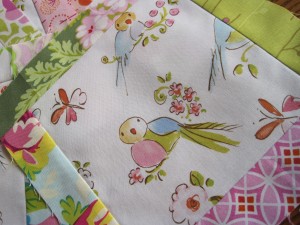 And here is what I do a lot of during my day.  Mommy stuff.  Elias is 14 months now and we are busy discovering new things every day.