Snuck a little sewing in tonight.
Currently attempting cloth diapers.  Put Elias in the first one and he had the biggest BM he has ever had!  And of course it was when we weren't at home…ahh!  I am using Thirsties covers with prefolds.  Funny that I asked the lady if I should avoid light colored covers and she said not to worry about it because poop should never touch the cover…hmmm…bad advice.  I am giving the cloth diaper attempt a solid week.  Here's a homemade prefold.  I think I am going to like the homemade ones.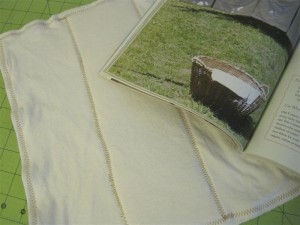 Fits into his little sweater vest I made.  Just in time for summer…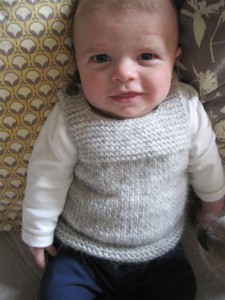 In other action.  Tony and I are playing co-ed softball this summer so Tony was giving me batting lessons tonight.  About halfway through I hit the ball and it hit me directly in the side of the head.  Tony said in all his baseball years he has never seen that happen.  It hurt.  I involuntarily ducked every time I hit the ball after that.  I'm not stupid.  Might be a problem though come game time.