This weekend I had a wonderful time creating.  I made this very simple fall table runner in a jiffy to get my quilting fix in…the rug continues to grow…and the baby vest I started just needs a few wooden buttons to finish it up.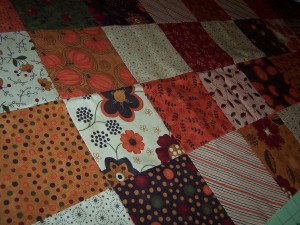 I'm thinking this will be a gift for someone.  It uses what quilters call a Charm Pack, which is simply a pack of pre-cut squares from an entire line of fabric.  If you are new to quilting it is a great beginner project.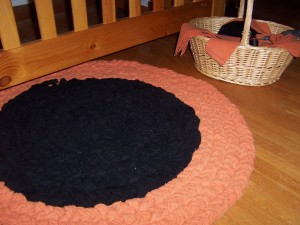 Tony decided to put up the crib on Saturday morning.  It is fun to have it up and begin dreaming about the look of the room.  I think it will be rather eclectic with lots of homemade touches.  The rug will soon have another color change.  It feels fab on the feet!!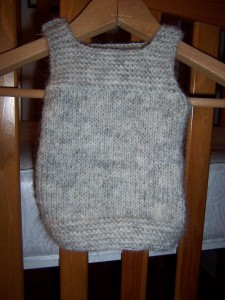 Saturday morning I also ran to the knitting shop quick.  (Seems like I always need exactly what I don't have when it comes to knitting!)  I started this darling baby vest, and like I said yesterday, could not stop.  I need to pick up some wooden buttons for the side and shoulder and then it will be complete.  Easy pattern for this self taught knitter and I am so grateful for the fact that you don't have to put it over babies head to get it on.  You can find the free pattern here.