I can't figure out if I love the project of the night or not.  I saw this post by You Go Girl! and was drawn to the old school charm of it.  Aren't they beautiful!?
I can knit but can't crochet as well, so I decided this was a good project to test my skill.  Out came Grandma's old Learn How Book.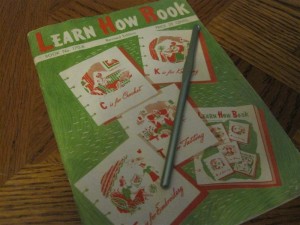 Here are the fabrics I chose for my pillow body.
Here we go with the crocheted edge.  In hindsight my yarn was a bit large.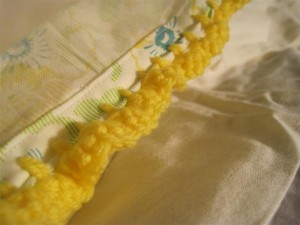 The single crochet stuff went very well and then…  well I needed the laptop for the next instructions and Tony had scrolled down on the blog when he had helped me with a question I had on it earlier…so I cut my working thread because that is where I thought I was at in the instructions…and then realized I wasn't at that step yet…and so I decided due to the thicker yarn I was done!  ahhhh!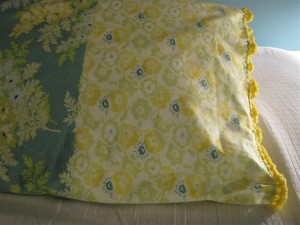 So there you have it.  My new pillowcase of the night.  I think I like it.  (Tony says it would be a good pillow for the guest room.  ha!  It will be in his bed tonight!  He will learn to like it too.)