Today I got some good sewing done–yay!  I put together a new sample of my pattern Anything Goes.  It went together so fast that I started thinking crazy…"everyone on my Christmas list would love this…"  oh boy.  Seriously though, one day.  A couple hours here, a half hour there.  This pattern is easy enough for a new sewer and totally looks great with anything!    You can order it by clicking on the Quilt Patterns tab above and scrolling down to the pattern.  I will get it off to you right away.  Christmas is coming!!
The fabric is Warm Woolen Mittens Flannel by Maywood Studios.  It is darling!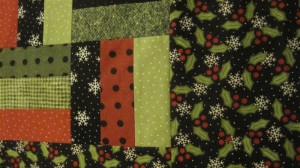 My lighting was terrible, so I will try and take a full shot tomorrow but this is what you get for now.  It is a large throw size and I can't wait to get it quilted.  It is going to be a major snuggler quilt in the winter.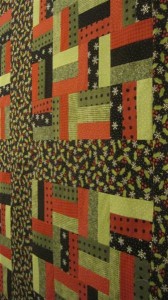 *The Dutch Rose Quilt Shop of Sioux Falls has kits available.