This weather has my gardening fingers starting to twitch.  I feel like I am a little on the late side of seed starting, even though I know I am probably not.  A local nursery told me that they plant tomato seeds on March 17th, so that is what I have been using as my guide.
My seeds arrived, so the boys and I pulled out some of the supplies.  We fully intended to plant, but after we washed the pots, vinegar+water, we discovered that the soil was frozen solid from sitting in the garage.  And so we wait.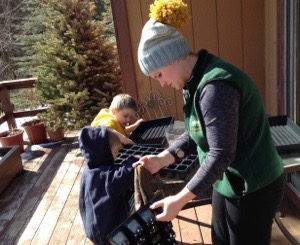 I did notice that the old herbs in the deck planters had some nice seed heads, so I decided to collect a few.  I probably don't need the seeds since I ordered new ones, but I would like to get better at seed saving.  It does save a few bucks, and I think it is good knowledge to have.
Cilantro.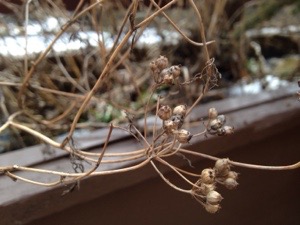 Dill.  We were short on dill last year with all the pickles we did so I plan on planting an overabundance.  We like using it for everyday use too–eggs, sandwiches, tartar sauce, quiche…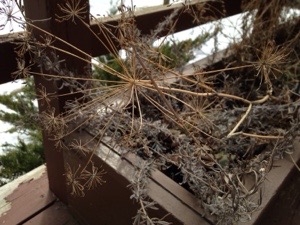 The trick this year is timing the dill to be at the right harvest point just when the cucumbers are.  There is an art to it…one I am slowly learning.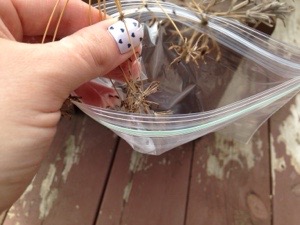 Some seeds need to go through a cold spell (cold stratification) in order to germinate.  Seems to me these seeds should be good to go since they sat outside all winter.  We will see.  Gardening experimentation never ends.