Kristina from Quilted Treasures in Rogers, MN sent me a lovely package in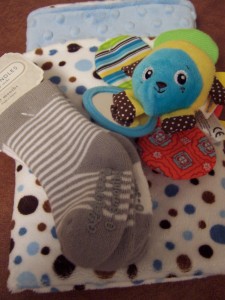 the mail!  She made what I call a "comfort blanket" out of the softest minkie in perfect little boy colors.  She also sent along a little toy and some darling socks.  I don't know why, but the socks really made me look twice and say, "wow, this is actually happening!  Our little one will be wearing  those in a few short months."  It made the whole pregnancy thing very real for me.
I also did a little intern
et shopping at Bay Window Quilts and bought these two fabulous pieces of fabric.  I'm never quite sure about what I am going to get when I order without seeing things in person, but these are even better than I imagined.  I am so excited to pick out a project to use them in.  How cute are fawns and hedgehogs?!?