I know some would argue that Valentine's Day is really about gimmicks, buying cards, and expectations…but I think it is a darling holiday and I hope to make it a big deal in our home.  A few weeks ago I did some decorating for the big love day–TODAY!
This is a very quick and easy project idea.  I took some scrapbook paper, a couple paper punches, and old fishing line and made some simply sweet banners for around the house.  The dots are hanging above Elias' door and the little guy has loved them.  It is so fun to see his face light up at something unexpected.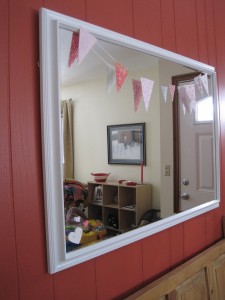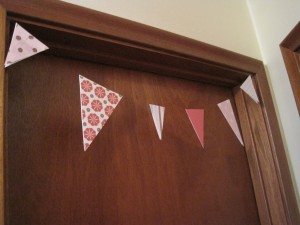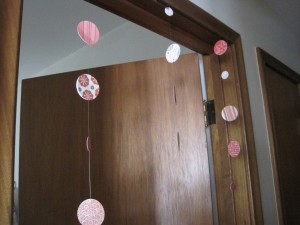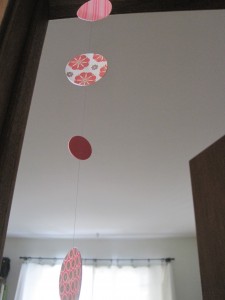 My mother-in-law surprised me with a Valentine present and I have used them at every opportunity since.  This at-home-mama is in the kitchen A LOT!  The oven mitt even has some cute hearts quilted on it which I will be using in the below project.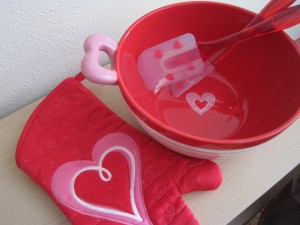 I meant to have this runner done by today, but alas I just could not pull it off.  I totally had a Valentine's Day charm pack fall out of my fabric stash a couple days ago and thought I hit the jack pot!  My lucky day!  I was inspired by Jodi over at Pleasant Home…who wouldn't be??!…to do some pinwheels and prairie points.  I used her Moda Bake Shop project and just mini sized it to work for a runner.  It needs a bit of quilting and the binding.  The runner has a lot of white in it and I began thinking about sticky fingers, snot, and drool…I am tempted to tea dye it when I am finished but Tony said no way.  I guess I will wait until it gets stained and then I will dye it.  We'll see how long the white lasts.  (I know the lighting is terrible, but for some reason I seem to always be working on blog postings after the sun sets.  hmmmm…)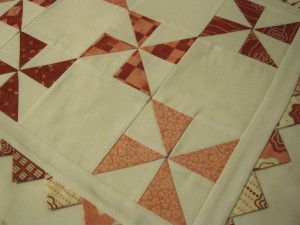 Keep it simple and have a sweet day!