I know Halloween is over, but I had a cute duck with me that I just couldn't resist showing you.
My mother-in-law, Elias, and I did a "Trick or Treat" 5k.  It was fun dressing up–I was an Orange Crush can and Elias was the cutest duck ever.  We did pretty good.  Far from first, but still not last.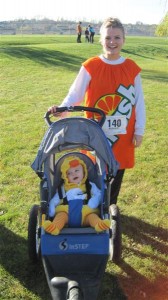 And here's the duck of the night.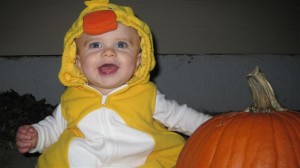 Tonight I finished this critter.  She's a hoot perched up on the light.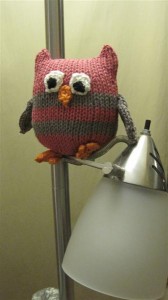 Dakota and Ms. Hoot.  Pals at first sight.  Ms. Hoot will be making her permanent roost at a friend's house in a few nights.  We will miss her.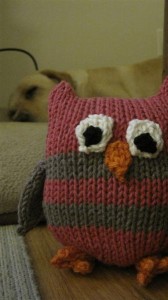 (Owl pattern is from KnitSimple Holiday 2010 magazine.  Designed by Susan B. Anderson.)