I had a friend recently mention crocheting the "Cheri Hat" and so I just had to google it since I have been enjoying hooking lately.  Once I saw it, I knew I would have to make up a boyish one for Elias.   I took some brown Cascade 220 from my stash and my size I crochet hook–pattern calls for size G, but I just used what I had and hoped for the best.  I'm a beginner crocheter and this pattern only took me about 3 hours with a few online video how-to look ups.  Here is the FREE pattern!    You can also find it on Ravelry or just by googling it.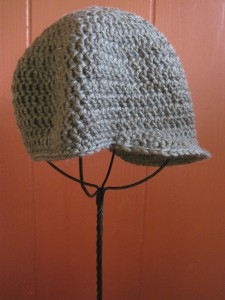 Here's my boy who's always willing to wear a hat if it gets him outside.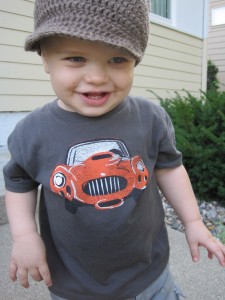 I did add a little wire in the brim to help it stand out.  Buried the wire in the yarn on the bottom and you can't even see it!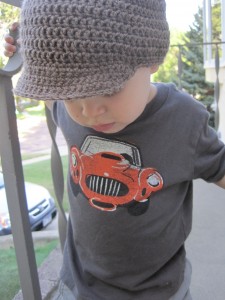 A fun pattern because you can wear it with the brim straight or off to the side.  The girly version also has a flower that you can make for the side of it.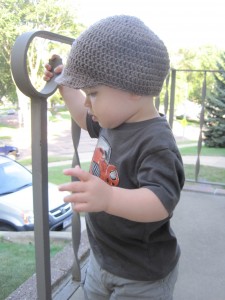 A great hat for my little guy as the weather starts to cool and we begin thinking fall!  My favorite time of year!